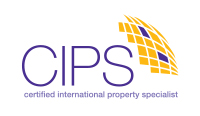 "I am a Certified International Property Specialist."
Obtaining this certification required completing rigorous specialized coursework along with demonstration of considerable experience in global business.
As a CIPS member I'm part of a Network of over 3,500 real estate professionals located in 45 countries.
We recognize that both buyers and sellers have vast options in selecting the representation they ultimately choose.
We've been honored to work with people from all around the world both here, and often in their home countries. From this we've learned that people are more alike than many might think.
Clients want to work with professionals who are honest, kind, trustworthy, listen and communicate well, know what they're doing and focus like a laser on obtaining results and meeting their goals.
As co-owner of three international businesses I've worked closely with numerous professionals in multiple countries...enterprises from which we imported as many as 55 containers of product per month.
In my role in Key Accounts sales and product development I enjoyed working with clients from around the world, including: Canada, Great Britain, Europe, Brazil, Argentina, China, Russia, India, Mexico, Bahrain, Kuwait, Saudi Arabia, Anguilla, Antiqua, Aruba and the Bahamas...to name a few.
As a realtor I've enjoyed helping clients from a diverse range of nations.
I also found that I very much enjoy working with younger clients who were typically moving here for professional reasons.
I began traveling internationally at age 18 and have spent considerable time enjoying and getting to know people of varied cultures in places such as Great Britain, various parts of Europe, China, Indonesia, and the Philippines.
In fact, getting to know people from other nations and cultures has been one of the great joys of my life.
I believe that success requires a natural capacity to form trusting, professional and friendly cross-cultural relationships, combined with an in-depth knowledge of regional markets and conditions.
Successful international transactions especially require a wide range of specialized knowledge and skills.
These include excellent negotiating capabilities, knowledge of currency and exchange rate issues, financing, visa issues, real estate tax laws, property management and new home construction, all of course supported by an excellent network of related professionals and specialists, as needed.
For those who purchased when their currency was strong and home prices were down the opportunity exists to benefit from property appreciation, beneficial exchange rates, the elimination of carrying-maintenance costs, and, for some, real estate taxes.
Please note that we can often help you save significant amounts by way of much superior currency exchange rates.
Contact us and we can quickly help to assess your specific circumstances.
Regions of Specialization:
North America
Western Europe
Asia
South America
Countries of Specialization:
U.S.A.
South America
Canada
United Kingdom
China
With all of the above services comes the full range of international resources, support and ancillary services provided by Coldwell Banker, the oldest and best known real estate agency in the world.
If this is the background and experience you're looking for, we will not disappoint. Just contact me at: 561-379-0401 or email me at: dorimckearn@gmail.com

Thank you